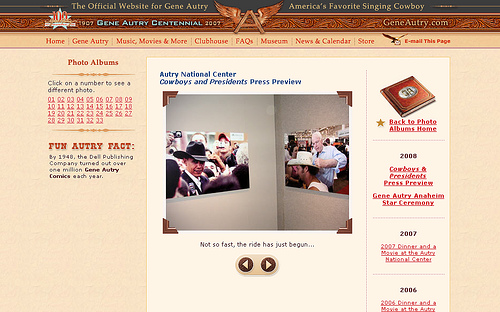 The news: for the first time I've been exhibited in a gallery. It's now official that my photo of Barack Obama is appearing in the exhibit 'Cowboys and Presidents' at the Museum of the American West, which is part of the Gene Autry National Center in Los Angeles. (RSS readers will have to click through to this post for links, unfortunately.)
The exhibit is a historical retrospective on the connection between presidents and cowboy imagery. From the press release:

On the eve of the 2008 election, the debate over cowboys and presidents continues. Some of the new crop of presidential candidates, including Barack Obama, Rudy Giuliani, and Fred Thompson, have already shown a willingness to identify with the cowboy by donning cowboy hats and/or boots on the campaign trail.
Sweet, that's where I came in. You can see the picture on the wall in this slideshow — you have to manually click to slide 30. It looks like it's one of the closing images. Cool.
The gallery director at Rayko also works a lot in L.A., and she said this museum is kind of a tourist spot that gets tons of visitors. I'll take it. And — bonus! — the exhibit will be traveling to Austin in September of this year! I'll post details of that when it gets there.
Also: An L.A. Times write-up.